Company chief operating officer Wilfred Amstelveen said the new route has been launched as a response to overwhelming requests from the public.
He said hard work by the entire company workforce and company strategy to consolidate operations in the region made the launch possible.Clients asking whether we will extend the flights to this country is very reassuring, I am confident that we have taken a right decision, he said.Mr Amstelveen was speaking in an interview in Lubumbashi shortly after the launch of the flight on November 26.The airline will be servicing the route thrice per week on Sundays, Mondays and Fridays and later on increase the frequency to four.He said the airline is looking at consolidating its operations in the region, hence the launch of the new route.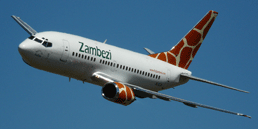 And the airline has described 2010 as a good year for the company after increasing profits twofold.We have had quite tremendous growth, our figures have doubled considering that we have been only 18 months in operation, he said.Since inception, the company has expanded daily flights into Johannesburg, Harare, Dar es Salaam and now Lubumbashi.He said despite stiff competition in the region, the company is keen to compete effectively.Over the next few months to come you will see very interesting developments happening for us to become a major player in the industry,he said.He said the airline has a very attractive fair to Johannesburg pegged at US$59 dollars.This is available in the market and I think we shall continue to offer outstanding products and services to clients during the festive season and after,he said.And Trade Kings commercial director Bright Chunga said the introduction of the flight is long overdue.He welcomed the development as it will accelerate exports into that market, saying Congo is one of Zambia's major markets.